Knit it, Violet!
Finished objects, works in progress, and lots of rambling about two sticks and some string...
project spectrum
well, since tomorrow is the last day of may, i figured it's time to post my project spectrum projects, right? i just signed up this month, and since i didn't have too much time (and because there are fairly loose guidelines to p.s.) i started thinking about my other hobbies too. so, for the color green, take a peek over at the flickr badge in my sidebar and you will see:
.my basil
.some marigolds waiting to bloom
.my green dollar store watering can
.my painted pinwheel succulent
.an apple necklace i made recently
.a veggie bracelet to match
.a dinner i made with green raviolis and asparagus
.my hideous new pea green nailpolish
.my meager project spectrum
handknit!
yes, i knit something green, for the first time since lukes alligator mittens last year! okay, okay, it's not just green, it's got blue and yellow too. but there's green in it. it's sugar-n-cream, color #02743. i love how bright it is. kellen and i just found out we got a cute little apartment in arcata, but it's really small and kind of...beige. so i thought this would make a great kitchen dishrag, to add a little bit of color.
(btw, if you don't have flash and can't see the badge, my flickr name is xvioletx, and all my p.s. photos are in a set called "project spectrum," if you're curious)
in other knitting news, i'm still working on kellen's storm socks, without any interesting progress. i finished the left front of luke's vest! for some strange reason, i got an urge to weave in all the ends, and it took me an HOUR, for just the front. you can imagine how fun that was. but now i just have the right front, then some seaming and picking up of stitches and button banding....okay, maybe i'm not as close to done as i thought. but it's looking cute.
annnd:
here is jaime knitting!! this is my ten year old, football crazed little brother. knitting! with the christmasy colored yarn he bought last year when he wanted kellen to teach him how to crochet. (kellen did teach him, by the way, but he got bored with it.) i taught him how to make the knit stitch using debbie stoller's rhyme "in through the front door, grab your scarf, our through the window, before the cat barfs." it seems to be a good one for teaching young boys because he picked up really quickly. it was so cute, though, because he said, "oh crap, sis, i dropped a stitch," and when i went over to look, he had slipped the stitch off the left needle, and the new stitch he had made slipped out of it. so i asked if the slipped stitch was his new stitch, and he said, "no, that's the
cat barf
." it was a lot of fun, but i think he'd enjoy it more if he loosened his kung fu death grip and quit holding the needles vertically. but that'll come in time, right?
rain, rain, go away.
because the sky has looked like this lately:
i decided to get started on kellen's storm socks. (knitpicks simple stripes in "storm")
okay, the weather wasn't my only motivation. i needed a portable project since luke's vest was getting unruley. did i mentioned i started working on that again? after lots of math and pattern altering, i finally figured out what i wanted, and finished the back:
(it's on scrap yarn so i can 3-needle bind off the shoulders and work the edging on the collar, but it's done...well, except for the end weaving in...)
i also whipped up some dishcloths for a swap, but my partner hasn't received, so i'll post pictures of them later.
tuesday musings...
tuesdays are normally my day off. a little respite from the chaos that is after-school care. but since tonight is Family Night, i have to go in..and work two extra hours over a normal shift for me. oh well. . . at least i got to spend the morning knitting and gardening!
i wore my grandma socks yesterday and they were beyond comfortable, but they fuzzed and the balls of the feet felted a little. it's not a big deal, but i'm thinking that maybe Memories isn't the best yarn to make kellen socks out of, since he wears his clothes pretty hard. . .damn it! why must they make such good "kellen" colorways (fly fishing, redwood forest, cape cod, etc) in such a delicate yarn?!
no wip pictures to post today, but speaking of the boyfriend, i don't think i've mentioned that he crocets. yes, we manage to work out our fiber art rivalries and love each other anyway. ;) i bought him
The Happy Hooker
the second it came off the presses, and in about two weeks he whipped me up the prepster jacket: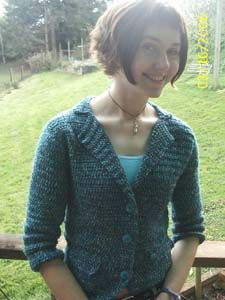 (this was a few months ago when my hair was shorter, and all brown, which it rarely is. excuse the ultimate dorkiness that is my expression.) this was the first time he had ever *really* followed a pattern, since he usually just makes up his own designs. that's right, he's a genius.
off to work on my boring dishtowel for a swap!
grandma socks, finito!
yesterday was my birthday, so i treated myself to finishing my grandma socks:
they're not really too big, like they look in the picture, it was just the way i was pointing my toes.
and a closer look:
the color pooled a little more in the instep on the right sock, as you can see in the picture, but i like it that way.
pattern: basic sock recipe. yarn: knitpicks sock memories in Grandma
.
and, since today was mothers day, i gave my mom her Tiptoe socks (scroll down a little to see them) which she really liked. hopefully i'll get a picture of them in action soon!
grandma socks, hat for a baby, hat for MY baby.
i've been knitting away lately. better than studying for finals, by far.
i finished my first grandma sock:
and the baby hat, seen here with my kitty, Ozzie:
pattern: garter stitch cloche from knitting for baby yarn: Bernat cottontots in little boy blue, about half a skein
a closer look:
the shaping was weird, like i said earlier, and i ended up working fewer reps to get the size i wanted, but i think it's adorable. i was surprised how much i like this yarn, it's so soft, and machine washable which is essential for babies. i'm going to make matching booties with the leftovers, although i'm not sure which pattern i'll use yet.
yesterday was mine and kellen's 4 year anniversary...so i whipped him up this beanie:
no pattern, (i've made something like a million 2x2 ribbed hats before)
yarn:noro silk garden
i love this colorway (i dont have the # onhand, the label's in the car), and i think it looks really good on him. this was my first time working with silk, even though it's a blend...and i think it could become a really expensive addicition.
now i'm off to cast on my 2nd sock...then kellen and i are getting matching anniversary tattoos! pictures soon!